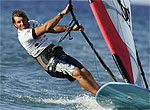 FORMULA WINDSURFING EUROPEAN CHAMPIONSHIPS 2005 AT FORUM BEACH HOTEL -
IALISOS BEACH / Rhodes

Antoine Albeau is the European Champion 2005
Ialisos/Rhodes, June 11th 2005.
After five spectacular days of racing the Formula Windsurfing European
Championships in Ialisos/Rhodes (Greece) ended today. The excellent
conditions enabled the race committee to run not less then 15 races for both Gold and Silver Fleet of the men and 14 races for the women's fleet. Thewind bandwidth ranged from 10 to almost 30 knots so high wind experts got their chances as well as the racers who prefer light winds. In the end the French Antoine Albeau (FRA-192, AHD, Neil Pryde) took the triumph and is now the Formula Windsurfing European Champion 2005. In the women's fleet Allison Shreeve (AUS-911, F2, Neil Pryde) is on the top of the ranking list at the end of the event but as she is not a European citizen the title goes to Lucy Horwood (GBR-95, North Sails) from Great Britain who follows on the second place.
Wojtek Brzozowski (POL-10, Starboard, Neil Pryde), the European Champion of 2004, took the lead in the regatta after the second day and managed to defend it until the 13th of 15 races. He had a continuous duel with Albeau.
In the end the French seemed to be a little bit more resistant to the
pressure. While Wojtek discarded the last two results the French kept up the performance and scored a second and a third.
Also an excellent day had the reigning Formula Windsurfing World Champion Micah Buzianis (USA-34, F2, Neil Pryde). He was the best rider today and scored two victories and a second place. With this performance he was able to overtake the British hotshot Ross Williams (GBR-83, Starboard, Gaastra)
and ensured the third position in the event. For three days the two have
been fighting head to head for the third position in the regatta.
In the women's fleet Allison Shreeve managed to defend her lead and won with 12,6 points. But she doesn't get the European title as she is not a European citizen. Lucy Horwood is in the second position with 24,4 points and additionally the new Formula Windsurfing European Champion 2005. in the third position followed Verena Fauster (ITA-31, F2, Gaastra, 28,4 points) from Italy in front of Sarah Hebert (FRA-61, Starboard, Naish Sails, 31,4 points).
At the end the French Antoine Albeau achieved a clear victory with 17,2
points and won the official class title "Formula Windsurfing European
Champion 2005". On the second place followed Wojtek Brzozowski from Poland with 22,9 points. Position tree goes to Micah Buzianis from the United States (24,8 points). Ross Williams is fourth with 34,4 points. The top five is completed by Steve Allen (AUS-0, Fanatic, Neil Pryde) with 37,7 points.
In the Master division Marco Begalli (ITA-415, Fanatic, Neil Pryde, 184,0
points) was able to win in front of Adri Keet (NED-34, F2, North Sails) and
Martin Ervin (EST-202). In the Youth division the French Julien Quentel
(FRA-421, BIC, Neil Pryde) dominated with 120 points in front of Robert
Baldyga (POL-18, Starboard, Severne) and Leszek Rutkowski (POL-220,
Starboard, Severne) both from Poland.
For next year Ialisos has applied to host the Formula Windsurfing World
Championships 2006 in September. The success of the European Championships is a big step forward for this goal. The competitors will now move on to the IFCA European Slalom Championships in Alacati (Turkey) which will take place from May 23rd to 26th.
The Formula Windsurfing European Championships are covered on
www.euro-cup.org, www.rwa.gr and www.formulawindsurfing.org. Besides the reports and the results you will also find a live ticker on www.euro-cup.org and a live cam on www.rwa.gr. So check out the internet!
-----------------------------------------------------------------------
Hosted by: Municipality of Ialisos, Island of Rhodes
Organized by: Rhodes Windsurfing Academy (RWA)
Supported by: Ministry of Tourism, Ministry of Aegean, Southern Aegean
Region, Prefecture of Dodecanese (D.O.T.), T.E.D.K. - PRO.TOUR
Main Sponsors: CONN-X, Hyundai, Oxbow, Boll?, Water Park
Sponsors: Rodos Palace Hotel, Motorola, GA Ferries, Shandy Rock, Rodos Tour,
Colorado Entertainment Center, Naftilos, E.N.AK, Extreme Sports Shops
-----------------------------------------------------------------------
Comments:
Antoine Albeau (FRA-192, AHD, Neil Pryde): "It was a big fight with Wojtek.
Today the wind was lighter and I screwed up the first race. But through the
whole regatta I sailed very consistent. So I was able to discard this result
and caught Wojtek. Rhodes is a good place. I hope to return next year."
Wojtek Brzozowski (POL-10, Starboard, Neil Pryde): "I worked really hard and won seven races. I am happy with my performance. The second place is very good in this strong fleet. On the last days I had a few unfortunate moments. But it's all good."
Allison Shreeve (AUS-911, F2, Neil Pryde): "I am so happy. I had a great
start into the regatta. But in the stronger winds the other girls gave me a
hard time. In the lighter wind today I returned to my old strength and was
able to ensure the victory."
Lucy Horwood (GBR-95, North Sails): "I hoped to catch Allison. But in the
light winds Allison presented the better performance. But I am happy to be
European Champion now!"
-----------------------------------------------------------------------
Contacts and further Information:

Achilleas E. Tzimas (local organizer)
Rhodes Windsurfing Academy
URL: www.rwa.gr
E-Mail: achilleas@rwa.gr

Ceri Williams (Chairman)
International Formula Windsurfing Class (IFWC)
URL: www.formulawindsurfing.org
E-Mail: FW@internationalwindsurfing.com

Matthias Regber (Director of the Windsurfing Office)
Choppy Water Event Management GmbH
Ma?mannstr. 11, 24118 Kiel, Germany
URL: www.euro-cup.org
E-Mail: info@choppywater.de
We will provide daily press releases, results, news etc. for the media. We
can also provide high quality pictures and video footage in TV quality from
the event. If you are interested to receive anything of these please feel
free to contact Matthias Regber at the contact address above.
-----------------------------------------------------------------
Choppy Water GmbH
Ma?mannstr. 11
24118 Kiel
GERMANY
Phone: +49 (0) 431 / 971 98 98
FAX: +49 (0) 431 / 971 98 99
E-Mail: info@choppywater.de ; m.regber@choppywater.de
Internet: www.choppywater.de ; www.windsurfcup.de ; www.euro-cup.org